Total Prep Time: 30 minutes
Total Cook Time: 1 hour
Ingredients
1 pastry for a 9 inch crust pie - you can get it here
8 apples - peeled, cored, and sliced. I use Granny Smith
1/2 cup unsalted butter
3 tbs all-purpose flour
1/4 cup water
1/4 cup white sugar
1/4 cup packed brown sugar
Directions
Preheat oven to 425 degrees.
Melt the butter in a frying pan on medium heat, stirring in the flour to form a paste.
Add the water, brown sugar and white sugar, bringing to a low boil. Reduce the heat to minimum and let it simmer.
Press a portion of the crust pastry into the baking pan, leaving out enough to make a top crust.
Fill with the sliced apples, mounding it slightly higher in the center.
Roll out the remaining pastry into a rectangle and slice lengthwise into strips.
Place a layer of strips across the pie, then rotate the pan 90 degrees and place another layer of strips acros the pie to form a lattice structure.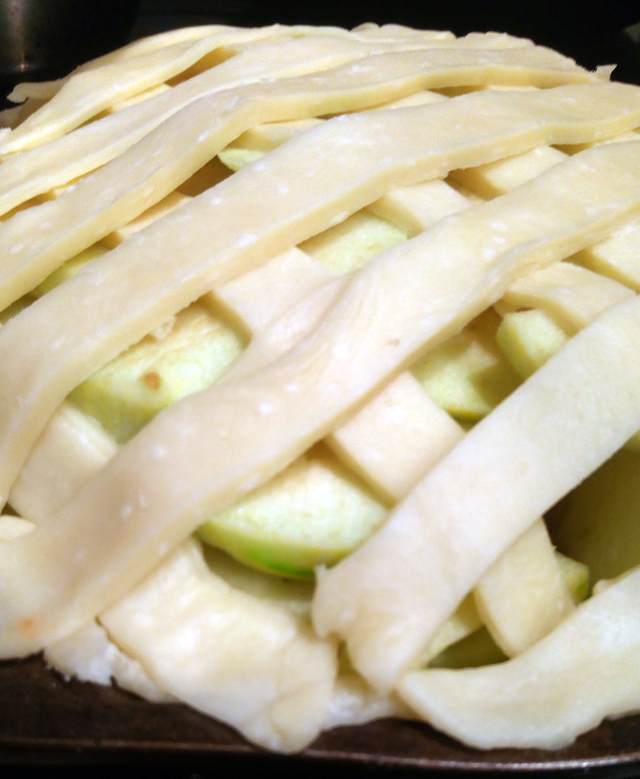 Remove the pan from the stove (turn the stove off!) and carefully pour the melted butter/sugar over the crust evenly, watching to ensure it runs through to cover the apples beneath it - don't worry if it doesn't look even.
Place in the oven and bake for 15 minutes. Reduce the heat to 350 degrees and continue to bake for another 35 to 45 minutes, until the crust is nicely browned or the apples are soft enough to your liking. You can test the apples by pressing a toothpick into them.