Total Prep Time: 20 minutes
Total Cook Time: 10 minutes
Ingredients
4 Poblano or Serrano peppers
1/2 cup crumbled feta cheese
1 cup shredded cheddar cheese
1/2 cup cream cheese cut into small cubes (it's a sticky job)
1/4 tsp salt
1/2 tsp cumin
3 tbs olive oil (none of that Canola stuff)
4 long skewers
Directions
ok - so here's what you need to do:
Cut the tops off of the peppers (keep them for later) and remove the seeds & membranes from inside.
Mix the cheese in a bowl with a spoon, tossing them like a salad - lightly, since we don't want the cream cheese to become a sticky ball surrounded by the other cheeses. Optionally, you could say "screw it" and simply mash it all together.
Using a spoon, scoop the cheese mix and stuff it into each pepper, pushing deep to get it as far into the pepper as possible.
Mix the spices with the oil, then brush onto each pepper.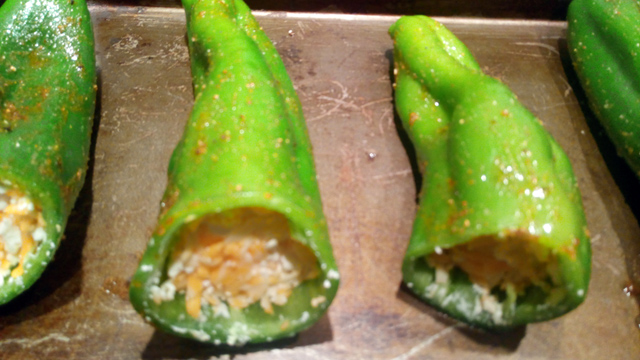 Place the caps onto the peppers and press the skewers through the caps until they come out the tip of the pepper. This will keep the caps on to prevent the melting cheese from coming out. Don't rely on a toothpick into the cheese - it's a false hope and the cheese will break its promise the moment it gets melty on the grill.
Optionally - you could just leave the cap off and simply risk losing a bit of cheese out the end when it softens.
Place the peppers directly on the grill on medium heat, about 3 minutes per side. You want to soften the peppers more than melt the cheese - the melting is definitely going to happen so concern yourself more with the grilling. The more you grill the peppers the softer they get and it reduces the 'fire in my mouth' effect. A spicy pepper is ok but grilling them smooths it out and really brings out a nice flavor on the peppers.
Don't be afraid to char your peppers a bit !
After about 3 - 4 minutes per side, and a nice 'browning' on the skin (peppers, not your own skin) they should be ready to serve.
**Optional - you could use the oven, but then I'd recommend steaming or grilling the peppers on the stove first. If you use an oven to cook the peppers then the quick alteration is preheat the oven to 400 degrees (takes 20-30 minutes) then bake 20 minutes per side. Good luck with the cheese though...it'll be all over the pan.. ;) **I speak from experience... it's a Dad thing...