Total Prep Time: 5 minutes
Total Cook Time: 40 minutes
Ingredients
3 large Russet potatoes
2 tbs olive oil
1 lb mushrooms - sliced
1/4 cup butter
1/4 cup flour
1 liter vegetable stock
salt and pepper to taste
1 bag of poutine cheese curds - I found it in the delhi department of Save-On-Foods
(optional garnish) green onions, tomatoes, cheddar cheese... anything goes!
Directions
For the Fries:
Preheat the oven at 475 degrees.
Slice the potatoes into 1/2" thick wedges.
Rinse the potatoes in a large bowl to wash off the starch - then leave for about 10 minutes in a spaghetti strainer to drip dry.
Drain the potato wedges and place in a large bowl.
Pour the oil onto the wedges and with your hands (don't be shy!) mix the oil and wedges until the wedges are completely coated in oil.
Place the wedges onto 1 or 2 baking pans.
When the oven is ready place the pans in and set the timer for 20 minutes. After 20 minutes, remove the pan from the oven, flip the fries over, then put back in the oven for an additional 20 minutes.
For the Gravy (prepare at the same time as the fries):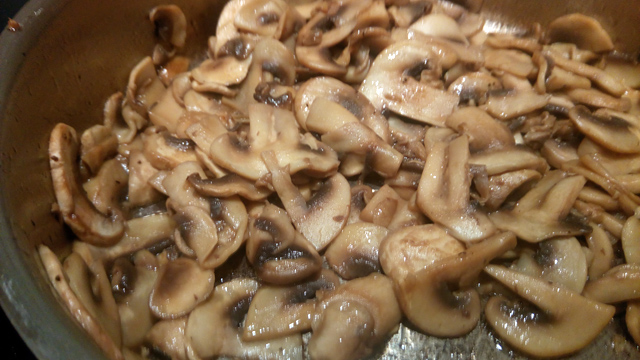 Slice the mushrooms.
Place the butter in a frying pan on medium heat.
When the butter is melted and bubbling, add the mushrooms - stir to coat with butter.
Fry the mushrooms for about 10 minutes until the water has been extracted.
Add some salt and pepper.
Add the flour and stir to coat the mushrooms.
Add the vegetable stock, bring to a boil, then set the stove to simmer (low) until it thickens - about 20 minutes - stir occasionally.
To Serve:
Using tongs (the fries are hot!) grab a portion of fries and mound on a plate.
Grab a portion of the poutine curds and spread evenly across the fries.
Using a serving spoon (or ladel) pour mushroom gravy onto fries, ensuring the cheese is covered in gravy so that it melts.
Sprinkle diced green onions (or whatever - cheddar cheese, sour cream, tomato chunks...) on top of poutine.
enjoy!